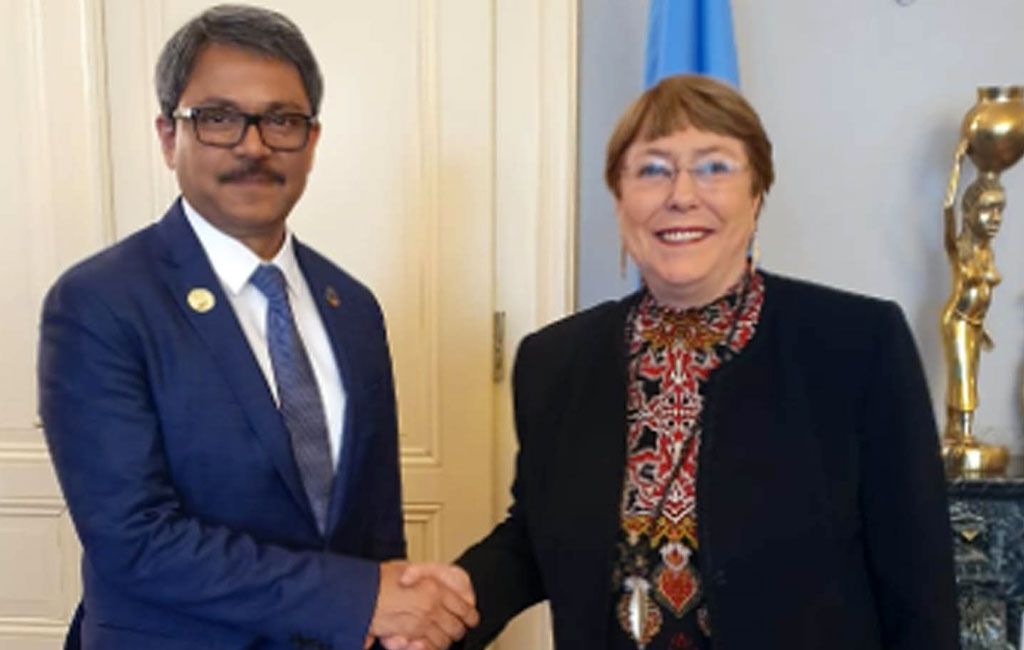 Using unconfirmed information is risky, he says
State Minister for Foreign Affairs Shahriar Alam has urged United Nations High Commissioner for Human Rights Michelle Bachelet to verify information regarding human rights issues from alternative sources before public use, in order to avoid "exaggeration."
Referring to the high commissioner's comment on Bangladesh during her recent global round-up at the ongoing session of the UN Human Rights Council, Shahriar highlighted the risks associated when UN bodies use unconfirmed information, said a press statement by the Ministry of Foreign Affairs, issued on Thursday.
On February 27, Bachelet, in her statement on the inaugural day of the 43rd session of the UN Human Rights Commission, mentioned allegations of torture, arbitrary arrests, extrajudicial killings, and intimidation of human rights defenders, journalists and trade unionists in Bangladesh.
She also put emphasis on the reform of the Digital Security Act and independence and neutrality of the judiciary.
The statement further said that, during the meeting on Wednesday in Geneva, the UN human rights chief acknowledged Bangladesh's "proven track record as a trusted partner of the United Nations" and recognized Bangladesh's "achievement of the Sustainable Development Goals as well as the government's commitment to uphold the rule of law."
She commended the government's efforts in hosting the forcibly displaced Rohingyas despite scarcity of resources. She profusely lauded, in particular, the government for allowing education for the Rohingya children.
State Minister Shahriar said the government was committed to strengthening the roots of democratic norms, rule of law and respect for human rights in Bangladesh.
Following up on the recent engagements at high political level, he reiterated the Bangladesh government's willingness to continue to work closely.
Bachelet accepted Shahriar's invitation to visit Bangladesh in the context of Mujib Year.
The state minister was in Geneva for the launch of the latest Joint Response Plan (JRP) for the Rohingya humanitarian crisis.
He also met UN High Commissioner for Refugees Filippo Grandi on Tuesday.

Reference : https://www.dhakatribune.com/bangladesh/foreign-affairs/2020/03/05/shahriar-alam-urges-un-rights-chief-to-verify-info-from-alternative-sources